ABOUT US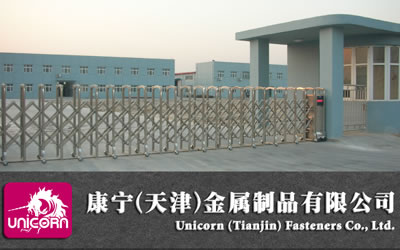 Unicorn (Tianjin) Fasteners Co., Ltd., is a professional Fasteners Maker located in China. Our fasteners include:
-Staples,
-Finish Nails and Brad Nails,
-Galvanized Wire,
-Wire Band,
-Collated Nails, etc.
Our staples like carton closing staples, fine wire staples and industrial staples are often used in wood work (wood panel work) and a wide range of manufacturing industries; staples can be driven into the work piece by use of a staple gun. A nail is a pin-shaped sharp object of hard metal, which is used in engineering, woodworking, construction, etc. and it is typically driven into the work piece by a nail gun. A finish nail is a wire nail that does not have a "head", so finish nails can be easily concealed. And for special purposes, some of our fasteners are galvanized to prevent corrosion even with weather exposure. Our fasteners are widely used in furniture manufacturing, interior construction and engineering industries, as well as by DIY users.
In order to maintain our status as a professional fasteners maker, we continually implement the most advanced equipment and technology to manufacture our high quality fasteners (staples, nails and other related products). For example, in our factory, two imported staple wire band production lines are employed.
Unicorn is located in Tianjin, a port city not far from Beijing, China. This location offers us convenient transportation and abundant labor resources, which enable us to provide high quality fasteners at economical prices. Currently, our staples, finish nails, brad nails, galvanized wires, and wire bands are exported to Germany, Poland, Russia, Canada and America as well as many other parts of the world.
With a goal to expand even more international markets, we look forward to providing all customers with any and all fasteners they require, whether that is staples, nailer nails, collated nails, galvanized wires, wire bands, or any other related products. We also offer OEM service upon request.