Products
Galvanized Wire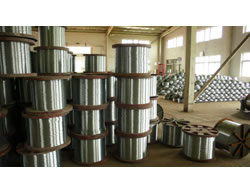 Applications of Galvanized Wire:
Galvanized wire (you can simply call it steel wire, metal wire or iron wire) is widely used in communication equipments, medical appliance, metal mesh and highway guardrail as well as some other construction engineering etc.
Features of Galvanized Wire:
1. Low carbon steel wire: 0.81mm-6.0mm; 1.5mm-4.0mm
2. Hot galvanized wire and electrogalvanizing wire are both available;
3. High gloss;
4. The zinc-galvanized layer is uniform and features strong attachment and corrosion-resistant.
Unicorn can also provide many other fasteners like carton closing staples, industrial staples, finish nails, brad nails as well as related products like wire band etc. Welcome to cooperate with Unicorn, a professional fasteners maker in China.